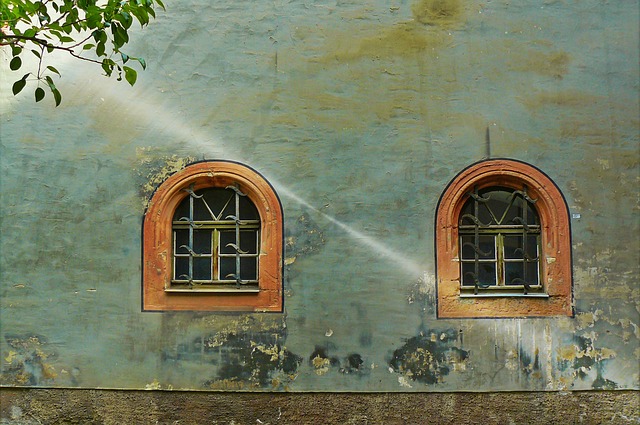 Aluminum windows are another type of energy-efficient windows that can meet the conditions of passive construction. These types of passive windows can often be found in commercial facilities such as office buildings or hotels. The aluminum structure of this type of windows allows the production of windows of any shape – double glazing.
Unfortunately, windows made of aluminum are characterized by much lower thermal insulation compared to windows made of plastic, wood or combined wooden-aluminum constructions. Due to these weaker insulation parameters, energy-saving aluminum windows are not widely used in passive housing only in commercial use. Nevertheless, you can also find this type of passive windows.
Aluminum and wooden passive windows
Much better thermal insulation parameters, such as, among others, heat transfer coefficient, than aluminum windows are achieved by wood-aluminum windows. Windows of this type combine the advantages of wooden windows with those of aluminum windows. An aluminum frame is attached to the frame and sash made of wood. This double structural layer means that the windows have additional insulating qualities.
In addition, this type of window must meet other conditions necessary for passive windows. These conditions are the heat transfer coefficient for the whole window, which should be below 0.8 W / m2K and the depth ranging from 88 mm to 120 mm. Passive windows of this type also have special gaskets that guarantee effective thermal insulation and energy efficiency. They also protect against water and moisture entering windows and rooms.
Another common type of passive windows are windows made of plastic and aluminum. Windows of this type combining the advantages of PVC windows, which are, among others, low price and ease of installation and operation with the advantages of aluminum, which are durability and resistance to external adverse weather conditions.
Aluminum passive PVC windows have a sash and frame made of plastic and aluminum fittings. Very often they are insulated with special polyurethane foam insulation. In addition, they have special gaskets that, in addition to thermal insulation, prevent water and moisture from entering the building interior and the window structure.
A growing number of window manufacturers also offer windows that meet the requirements of passive construction. This ranking is opened by such producers as Schuco, M&S; Pomeranian Window Factory, or Abacus. VEKA is also a very good producer of energy-saving passive windows. Sokółka and such producers as Dako, Vetrex, Adams, Roto, Salamander, Eko Okna, Urzędowski and Petecki also have great recognition. Passive roof windows are a producer like the Danish company VELUX and the Polish Fakro.
The price list of passive windows depends on several factors. These include, inter alia, the material from which these doors are made and the manufacturer's individual price list. Prices of passive windows made of plastic start from around PLN 250 for a small bathroom window. Prices of single passive room windows start from approx. 150 £. However, it should be remembered that to this price we should add approx. PLN 50 for each window in the event that we also decide to order installation. If we also order disassembly and utilization of old windows, we should add another 10 £ for each window. Installation of passive windows with replacement and assembly for the whole apartment is from about 1150 £. However, it depends on the size of the apartment and the window area as well as the material from which we order our windows.
Passive windows are one of the most important elements of passive construction, which is gaining increasing popularity and recognition in Poland and throughout Europe. This advanced type of energy-saving construction owes its popularity to the growing ecological awareness of the societies of European countries, which is affected by the climate of European countries, good education and increasing heating costs and other expenses that users incur in connection with the operation of buildings. Passive windows are such an important element of passive construction, among others, because most of the heat from buildings usually escapes through window openings, and passive windows prevent heat from escaping, insulating them well.