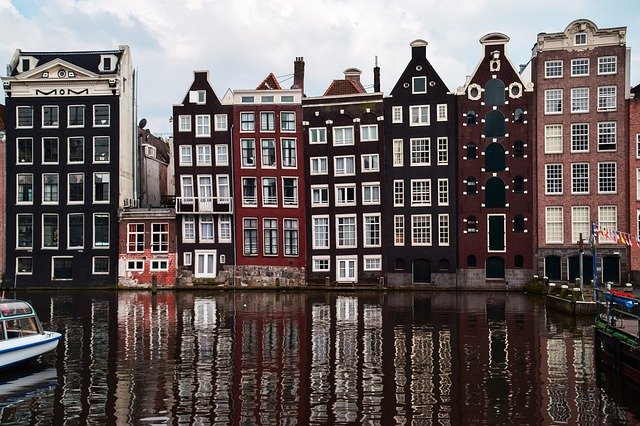 At the beginning a few words about the symbol of Amsterdam – a bicycle. Amsterdam is known for a huge number of bicycles, around 70% of all city center traffic is on bicycles. There are about 900,000 of them in Amsterdam on squares, squares, bridges and streets everywhere. Bicycles are not cheap – I will show you a photo approximating the price of an old, used bike, slightly corroded but still in good working order. The scourge of Amsterdam is their theft, usually for short-term use, about 80,000 of these two-wheelers are stolen each year, and 25,000 flows into Amsterdam canals.
Riding a bike is the most convenient and enjoyable way to visit Amsterdam, the bike paths in Amsterdam are perfectly marked and very safe, there are also many parking lots and service points. Fortunately, you do not need to bring a bike with you to have a nice and effective tour of the city, it is a much better idea to rent it on site. The cost of renting a bike for a day is about 12 €, in addition you need to leave a deposit – about 50 € and show an ID document photo.
Remember to never leave your bicycle unsecured. Bicycles are used as the most popular and probably the fastest means of transport, for work, shopping, to the bar, everyone rides on this two-wheeler. The city is well prepared for it, bicycle paths run on most streets, there is a separate signaling, and the cyclist almost always has priority, there are many parking lots for bicycles in the city, especially near train stations, public transport stops.
The specificity of Amsterdam are the so-called Amsterdam Bike Taxis that have become more popular than traditional car taxis for which traffic in the center is very limited. Well, quite about bikes. In Amsterdam, water buses (canal bus) are popular among tourists, their choice and variety is enormous, they are completely uncovered or with glass roofs, they can be used as an ordinary means of transport or equipped with kitchen facilities to serve as floating restaurants for wealthy tourists, prices they are not low, on average they start from 10e per hour, there are color-coded water routes with different flow times, apparently Amsterdam seen from the perspective of the water channels is also fascinating – I will check it at the next visit.
I gave you a list of museums in part-1, some of them are fascinating (I know from the descriptions), the largest is the Rijksmuseum or National Museum, queues for ticket offices have several dozen meters in length (ticket price is almost 15e), I will visit them next time, today I will show you only from outside.
There are 1280 bridges across the Amstel River and all the larger and smaller canals of Amsterdam. The most famous of them is, from 1670, Magere Brug, or Chudy Bridge. It connects Amstel at the height of Kerkstraat, between the Keizersgracht and Prinsengracht canals. Chudy Most (Magere Brug) was made entirely of wood, today, after renovation in 1969, it shines in a snow-white color and has been closed to motor traffic since 2003. Mast looks impressive after dark, the bridge is illuminated by 1200 bulbs. In 2010, the World Heritage Committee decided to enter 17 Amsterdam canals on the UNESCO World Heritage List. There is a place where you can see fifteen other bridges from one bridge. The number of channels is impressive and it is reasonable to call Amsterdam the Venice of the North.
At the end, a few words about the most colorful attractions of Amsterdam, the famous floating flower market on the Singel channel, which is the oldest of Amsterdam's canals, in the Middle Ages it surrounded the entire city and until 1585 it served as an urban moat. Flower Market – the flower market is open every day from 9-17 except Sundays, you can buy beautiful live flowers but also flower bulb seeds and even for a 6e starter for growing at home your own mary, under transparent roofs hang dried colorful flowers, cool it looks